Womens squad seeks continued success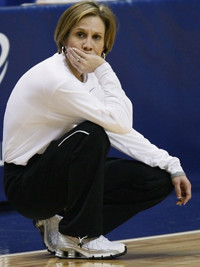 Looking towards Saturday's regular season and Preseason WNIT opener against Iona, Charlotte head coach Karen Aston understands her young 49ers will be tested early. "Playing in the Preseason WNIT mentally prepares them for other things down the line," Aston said, "If you can have some success in those situations, knowing the level of competition, it raises confidence."
Lack of confidence should not be a problem for senior guards Kendria Holmes and Shannon McCallum, who will anchor one of the most experienced backcourts in the Atlantic 10. With six losses coming by four points or less last season, the duo will be expected to take control in late game situations and find ways to win. Coach Aston described her expectations for her backcourt as "very, very high", because of its depth.
Charlotte started slow in 2009, losing five of their first six before rebounding to finish 18-14. The Niners made it to the WNIT, where they defeated Gardner-Webb before falling at home to North Carolina A&T to close the season. The WNIT berth was the eighth consecutive postseason appearance for the program. Charlotte faces another tough schedule in 2010, featuring 14 teams that reached postseason play last year.
This year's team will need to produce despite the departures of Aysha Jones, Erin Floyd and All-Atlantic 10 Honorable Mention, Ashley Spriggs. Together, the trio accounted for 45 percent of scoring and 37 percent of rebounding in 2009.
Four newcomers should provide a spark. Two North Carolina products, Lanie Whitaker and Ny Hammonds will accompany center Tiana Burley and forward Gabby Tyler. Expect to see the most early playing time from the 6-foot-2-inch Tyler, who averaged 17.2 points and 17 rebounds for a 25-3 Greensville County team a year ago. "The most ready to play (of the freshmen) is Tyler," Aston said. "She will be thrown into the fire early."
Charlotte should rely heavily on junior forward Paige McCallum and sharpshooter Katie Meador. Meador, who averaged less than nine minutes a game in '09, has shown initiative to improve her game in the offseason. "Everything about her (Meador) is more mature and better," Aston said. "She has definitely put herself in a position to help our team."
Looking at the Schedule
The Preseason WNIT, in which the 49ers are guaranteed to play at least three games, will prove an early hurdle. Thirteen postseason teams are sprinkled throughout the bracket, including Charlotte's first round and home opener opponent, Iona.
First-round wins by Charlotte and Florida would make for an interesting second round matchup, with the Gators being coached by former Charlotte coach Amanda Butler, in her fourth season
Two days after Thanksgiving, Charlotte welcomes powerhouse and top-10 mainstay Duke to Halton Arena. The Niners have lost four straight in the series, but played well last season in a 13-point loss on the road to the then No. 10 Blue Devils.
Charlotte then takes to the road for back to back games against North Carolina A&T and UNC Wilmington. Two 2010 WNIT participants, VCU and East Carolina, visit Halton following the road trip.
Three days after Christmas, Charlotte heads to New Orleans where they will participate in the Tulane Doubletree Classic. Charlotte will face Old Dominion on Dec. 28, and play either Tulane or Nicholls St. the following night. A three game home stand will welcome the Niners back from the Big Easy, with ACC foe Virginia Tech, Temple and Fordham invading Halton Arena.
The Niners caught a bit of a break in the conference schedule. They will host preseason No. 5 Xavier, Temple and Dayton without having to face any of those teams on the road. The rest of the home conference schedule features George Washington, Saint Louis and Duquesne.
Charlotte will look to improve on an 09-10 campaign that saw them go 2-5 on the road in conference. A late January run of three straight conference road games will provide the toughest challenge.
Overview
Charlotte could have easily been a 20-win team and an NCAA participant last season, but a few lapses and bad breaks spelled their demise in a number of close games. The Niners should play better in those situations, now that their main scorers and ball handlers have another year of experience.
Katie Meador and Epiphany Woodson look poised to have breakout seasons, and will be called on frequently. The main question for this team will be its post play, especially from sophomores Amanda Dowe and Jennifer Hailey. Coach Aston calls the transition in her sophomore class "one of the biggest turnarounds since I've been coaching", so expect an increased involvement for them.
Finally, if you are a Charlotte 49ers fan, get excited about Gabby Tyler. Freshman inexperience will lead to freshman mistakes, but Tyler is a superb talent and will be a factor early.