Ten Years Later Haywards Legacy Remains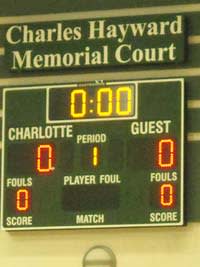 An athlete's legacy is generally measured by championships, statistics, and jaw dropping plays that will be remembered by fans for a lifetime. Charles Hayward left a different kind of legacy and impact on the Charlotte 49er program that still resonates to this day.
Hayward's legacy was supposed to stem from the basketball court. He was a 6-foot-8-inch 210 pound forward and a legitimate top 50 prospect. He starred at Peabody Magnet School in Alexandria, LA where he played for legendary Head Coach Charles Smith. Charles happened to be the father of Kedric Smith, who played with the Niners from 1996 to 2000.
Niner Head Coach Bobby Lutz, an assistant at the time, remembered the first time he saw Hayward play. "He was so long and had that look of a pro by the way he looked and moved," Lutz said. "He was running, blocking shots, and following dunks."
It wasn't just the strong physical attributes and athleticism that Lutz noticed. "He was just very impressive and he played with a smile," he said. "His personality was evident even then and he obviously enjoyed playing the game."
It was an intense recruiting battle but the Niners prevailed in the end over a host of BCS schools. "It was thrilling," Lutz said of Hayward's commitment. "We were in the process of doing well and we knew that Charles would only help. Sometimes the rankings aren't accurate but he was definitely a top level player. There was no doubt about that. The number is not as important as a guy who was athletic enough to help us win Conference USA. We were excited."
Hayward signed his letter of intent on Nov. 15, 1996. He would be the highest ranked recruit ever to attend Charlotte.
The Niners were in the midst of a resurgence on the court. In Coach Watkins first year as head coach the Niners had won the Conference USA White Division and won their first NCAA Tournament game since 1977. The addition of Hayward and several other highly touted recruits combined with the return of All League players Sean Colson and DeMarco Johnson had expectations at an all time high for the 1997-98 season.
The Niners were a preseason Top 25 squad and expected to challenge for the league title. But as practice began something was not right. Hayward looked slow and out of shape in practice. Lutz did not think too much of it at first. He figured it was just a difficult adjustment for such a young player. "I was concerned a little but I thought he would play his way through it," he said. "I thought maybe he wasn't in good as shape as he needed to be. You remember how he played in those summers and how athletic and active he was and he just wasn't able to sustain anything in workouts or conditioning. I never thought he was lazy. I just thought he wasn't in shape or it was just the transition of not being comfortable out there. Then as it kept going you start wondering other things."
"Other things" were figured out once Hayward suffered a swollen tongue. Blood tests revealed that Hayward had acute myeloid leukemia. According to the American Cancer Association, "acute" means that the leukemia can spread quickly throughout the body and can be fatal if it is not treated.
Hayward found out on Halloween that he had leukemia. It was a shock to everyone on the team. "It was a horrible day," Lutz said. "It took precedence over everything. It was amazing in a negative way that this young guy had leukemia. It affected everyone a little differently."
It was in these tough times that Hayward's true character was shown. Instead of feeling sorry for himself and complaining about the illness he remained upbeat. " It was incredible," Lutz said of Hayward's spirit. When Lutz went to visit him in the hospital he wondered what he could do to lift his spirits. Lutz said after he left the hospital on visits it was usually Hayward who had done something to lift his spirit. "Whether he was a basketball player or not he had an unbelievable spirit and positive energy that the disease could not stop or diminish."
The Charlotte community rallied behind Hayward to help him out. From the Comfort Inn putting up a room for his mother to generous gifts from Rick Hendrick and Dale Halton the support came in droves for the young man. "This community was great," Lutz said. "It's what you would hope would happen and it did in a huge way."
After being released from the hospital in December Hayward had one goal on his agenda: to get back on the court and start playing basketball again. "It was a slow process but he worked diligently to get himself back," Lutz said. "He went at his own pace. I just know by the fall of 98 he was ready to go. It was amazing to see a guy that lost all the weight and battled in the hospital [to be] ready to be back out on the court. It was a great story."
Lutz was promoted to Head Coach in April after Watkins had took the same position at Texas A&M. As the college basketball season approached Hayward begin to regain all of the weight he had lost from his chemotherapy treatments. A return to the court was on the horizon.
Hayward returned to the court for the season opener at Boston University in November of that year. His best basketball moment was saved for the second home game of the season against George Washington. Showing the potential that made him such a sought after recruit Hayward blistered the Colonials by setting a Halton Arena record with six blocked shots while scoring eight points and adding seven rebounds. "It was pretty inspiring whether you are a player, coach, or fan," Lutz said. "Every game he played was special to our players and coaches at the time. I don't think we took it for granted."
Then as the team was preparing to go to Hawaii for the Rainbow Classic the team got some startling news on Christmas Eve. Hayward's leukemia had returned. "We just got out of practice," Lutz said. "We were getting ready to go to Hawaii. He went for his normal checkup and it came back and it was very upsetting. [It was] crushing really because things had been going well [and] he couldn't make the trip to Hawaii with us [because] he had to start treatment immediately."
The Niners honored their teammate the rest of the season by leaving his chair open at the end of the bench and dedicating the season to him. The Niners would go on to their third straight NCAA Tournament and advance to the second round.
Hayward underwent a bone marrow transplant in April with his brother Eric being the donor. A few months after the transplant he had developed a chronic graft versus host disease as a result of the transplant. Hayward was in Chapel Hill where Lutz visited him a few times. Even in his toughest times Hayward remained upbeat and positive. "Now at the end he wasn't communicating but when he could communicate he still somehow managed to smile and thank me for being there," Lutz said. "It was incredible. It really was incredible, the spirit and positive energy he had.
Hayward lost his battle with leukemia ten years ago today. Although he lost his life he taught many lessons to those around him. "He was a great guy and an awesome teammate," said Jobey Thomas, a rising sophomore at the time of Hayward's passing. "I think it reminds you that there is much more to life than basketball. Tomorrow is not promised so you really want to make the most of each day."
"The one thing ill always remember about Charles is his positive attitude even when facing death," said Associate Head Coach Rob Moxley. "He never once complained and he always was smiling. Charles was a great human being."
The Charles Hayward Memorial Court is where the Niners practice and train. Lutz was emotional when speaking about the court. "I call it the Hayward Court," he said. "I wish everyone would call it the Hayward Court instead of the practice court and when you go into that court you should play that way with that kind of passion."
The Hayward Grubstake Award is given out at the end of the season to the player who exhibits great effort and determination like Charles did during his bout with leukemia.
Hayward's locker also remains in the locker room. It is being renovated at the moment and has been isolated in a place of honor. Lutz said as long as he is at Charlotte Hayward will always have a locker.
Lutz said that Hayward always displayed "positive passion" throughout his life. "We all tend to feel sorry for ourself when things aren't going the way you want them to go whether you're losing games or [it's] some other aspect of life. He handled this disease with unbelievable class [and] maturity beyond his years and he kept that passion."
Lutz added more regarding Hayward's legacy. "I don't think about him everyday but I try to think about him as much as I can because I still have his memorial service program," he said. "I have the button HAYWARD 45 in my coaches locker so that every home game I see it. I think about him every home game because I've never moved that pin from the time I had it. I consciously try to think about him because he gives me a lot of positive things that I can hopefully use. I said it at the time of the memorial service he is still one of the most five influential people in my life even though I only knew him for a short time because of the way he lived and the way he handled an unbelievably difficult situation."
Charles Hayward was the epitome of what characteristics the human spirit should be built upon. He was an upbeat person who knew how to enjoy life instead of taking it for granted even when death was staring him in the face. He played in 10 games and averaged 2.9 pts, 3.5 rebs, and 1.6 blks per contest in a career that was way too short. Statistics will never define Hayward's legacy. He left a positive impact and influence on people that will last a lifetime and that is the greatest legacy of all.